"From folk to swing and lots in between!" Common Chord was formed originally as a duo in 2015 by singer/songwriters Michael Bryant and Tracy Jane Comer, and has now grown to five regular performers, with the addition of Bruce Buttel (songwriter, guitar and vocals), Delores Jenison (backing vocals), and Faye Bruggink (clarinet and bass). Add in the instrumental skills of group founders Michael (guitar, bass, mandolin) and Tracy (guitar, viola/violin, cello, bass, hammered dulcimer, keys) plus their talents in arranging and composition, and you get uniquely rich, textured, and tasteful arrangements.
Common Chord's repertoire includes originals from each of three writers in the group (Michael, Tracy, and Bruce) plus unique covers from the likes of Tom Waits, the Beatles, Robert Johnson, Cheryl Wheeler, and more, with flavors of folk, blues, swing, country, pop, and jazz. At a Common Chord show you'll hear lead vocals traded around plus lots of full harmonies, backed by guitars, viola, clarinet, mandolin, bass, and sometimes hammered dulcimer and/or cello. Their music has appeal to audiences of all ages. Their debut CD (self-titled) was released in January 2017.
Group leaders Michael and Tracy were members of the former Madison-area trio Sticky Fingers from the early to mid-2000s, and they have worked as a duo on occasion during the years since.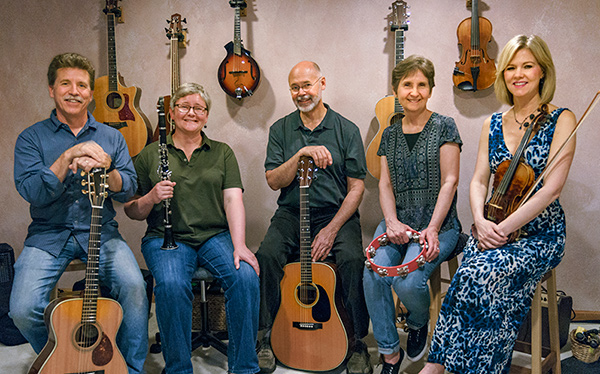 Left to right: Bruce Buttel, Faye Bruggink, Michael Bryant, Delores Jenison, Tracy Jane Comer
About Michael Bryant (Co-Director; songwriter/composer, lead and backing vocals, guitar, bass and mandolin): Michael has written music for radio, TV, industrial and feature films. He has earned Addy awards for his commercial music and is also a past winner of the American International Song Contest. Folk music is what he enjoys most but doesn't see anything wrong with throwing in a jazz chord or two along the way. With his unforgettable and seemingly effortless baritone voice he delivers his memorable original songs in a variety of styles which will have you humming and singing and tapping your fingers and toes.
www.michaelbryantmusic.com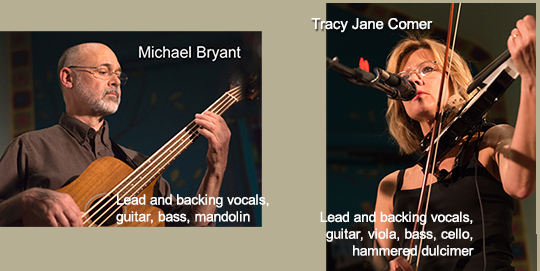 About Tracy Jane Comer (Co-Director; songwriter/composer, lead and backing vocals, guitar, bass, viola, cello, hammered dulcimer): Tracy is a singer-songwriter and multi-instrumentalist with several published recordings and a host of international and local awards to her credit in many genres. She has opened or shared shows with national acts including Dar Williams, Willy Porter, Peter Mulvey, Ellis Paul, Holly Near, and more. She loves music of many types, having come out of an extensive classical music background (piano, cello, vocal/choral) but also having participated in pop/rock, folk, theater, and church music over the years. She played for six years with local band Wild Heart in which she sang and played guitar, fiddle, and keyboard. These days Tracy very much enjoys the craft of putting musical arrangements together and loves finding fabulous songs of great writers that you might not hear on commercial radio.
www.tracyjanecomer.com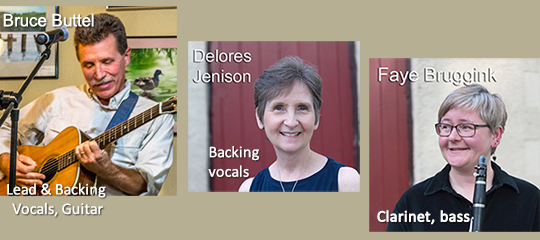 About Faye Bruggink (Clarinet, bass guitar, bass clarinet): Faye Bruggink was the first chair clarinetist in sixth grade band because her last name starts with "B" but managed to mostly maintain that chair by studying with Nancy Mackenzie through middle and high school. Besides playing in school bands and orchestras, and attending Wisconsin School of Music Association's Honor Band music camp, Faye was a member of the Wisconsin Youth Symphony Orchestras, touring England and Scotland with Youth Orchestra Music Director/UW-Madison Professor (and clarinetist) James Smith. Faye's post-secondary education was science-intensive, but she found time to continue playing clarinet and has picked up the bass guitar along the way as well. She has played in several chamber ensembles with Tracy Jane Comer since the new millennium, including Alchemy Ensemble (several incarnations) and Elixir Chamber Trio.

About Delores Jenison (Lead and backing vocals): Delores has been singing in church groups, community groups, and ensembles for most of her life. She particularly enjoys singing backing vocal harmonies. She was the director of a contemporary praise band at Good Shepherd Lutheran Church for about 15 years and has sung in several groups outside of church, including Common Chord, Acoustic Collective, Acoustic Alloy, Tracy Jane Comer and Friends, and the Edgewood Community Choir. Delores plays the piano and is currently learning to play the ukulele.
About Bruce Buttel (Songwriter, lead and backing vocals, guitar): Bio coming soon!